Back to the map
< Back to Regions
Burgundy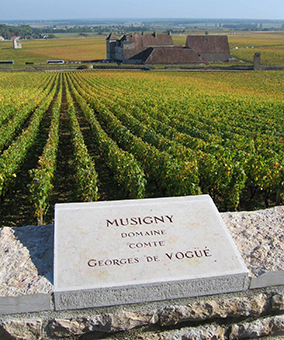 Burgundy is the generic term given to wine made in the Burgundy region in eastern France, in the valleys and slopes west of the Saône River.
Burgundies are non-blended wines, made from a single varietal grape. The great red wines are made strictly from Pinot Noir grapes and the collectible whites are made exclusively from Chardonnay. Wine experts will often refer to Burgundy wines as exhibiting "terroir", which is homage to the uniqueness of each vineyard and producer.
Burgundy is home to some of the most expensive and most sought after wines in the world, including those of Domaine de la Romanée-Conti, Domaine Leroy, Henri Jayer, Emmanuel Rouget, Domaine Dugat-Py, Domaine Leflaive and Domaine Armand Rousseau.
Unlike Bordeaux, production of most investment-grade Burgundy is miniscule, ranging from one to twenty barrels, or 25-1000 cases! The sheer scarcity value often leads to significant price appreciation as buyers seek out bottling's from the best producers. Those lucky enough to receive an "allocation" are sitting on a very rare product indeed, which is why Burgundy often achieves the highest prices at wine auctions.
Burgundy wines are divided into Grand Cru, Premier Cru, and AC, or village wines. Whilst Burgundy as a region is diverse and produces consistently good wines, it is typically the Grand Cru vineyards who produce the most collectible wines.
Why First –Tier Burgundies are increasing in price:
Production has remained static for 200 years and cannot increase
Microscopic production combined with a fanatical fan base of obsessed buyers, as well as a growing global market of new buyers, means inevitably higher prices
The reputations of many of these estates are unrivalled by almost any other consumer goods or luxury products.
Learn more about Domaine de la Romanée-Conti
View our stock list of wines from this region